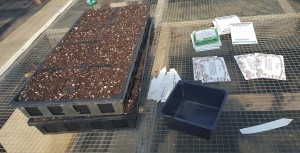 The Saturday greenhouse workdays have begun! The greenhouse is always hopping on Saturdays when more volunteers are available to come and work.
Today I did a massive sowing of basil seeds. I normally do it next week, but I'm teaching at Home Gardeners School that Saturday. I also sowed dill, parsley and cilantro.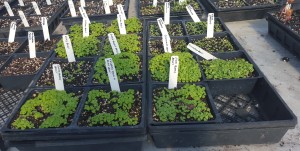 But first I had to check on how my seeds from the last 2 weeks were doing on the misting table. The first batch have continued to grow and will soon be ready to be transplanted into their sale containers.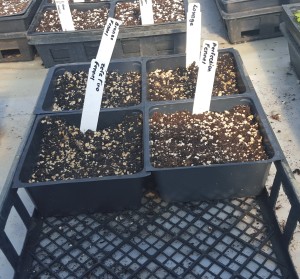 Last week's seeds have not even germinated. They are perennials which usually take longer, so I will wait another week before I start to worry.
Here is what was sown today:
Santo Cilantro
Dukat Dill
Fernleaf Dill
Italian Parsley
Titan Parsley
Blue Spice Basil
Dolly Basil
Eleonora Basil
Genovese Basil
Italiano Classico Basil
Mammoth Basil
Napoletano Basil
Osmin Basil
Persian Basil
Profumo Basil
Sweet Basil
We got in our first delivery of plugs (plant starts) which we have begun transplanting into containers for sale. Today we finished:
Chives
Garlic Chives
Bronze Fennel
French Tarragon
Golden Sage