Did you know that the bay leaf you just dropped into your sauce comes from a tree? Bay laurel is an evergreen tree that is native to the Mediterranean area. It is hardy in zones 8 through 10. When grown in the ground, it can reach a height of 30′ to 60′ although it can be pruned into a topiary or even a hedge. It prefers well-drained soil and grows well in sun or partial shade.
North of zone 8, bay laurel is grown in containers and either grown entirely indoors or set outdoors during warm weather and then brought indoors during the winter. Bay laurel grows well in containers as long as you keep it pruned to a maximum height of 6′. Pruning should be done mid- spring. Use supplemental light indoors and keep your tree away from drafts near windows and doors. It is sensitive to the cold.
Because it is native to a dry part of the world, bay laurel is drought tolerant. It is best to give it a good watering and then allow it to dry out completely between waterings. If grown in a container, it will require fertilizer which should be applied in the spring.
Bay laurel is a dioecious plant, with male and female flowers on separate plants. It flowers in the spring and if there is a tree of the opposite sex nearby, it will produce purple berries in the fall. Each berry contains one seed.
It is difficult to grow bay laurel from seed because the seeds take up to 6 months to germinate. Bay laurel can be propagated by cuttings taken in the late summer which should then be overwintered in a humid environment such as a greenhouse or conservatory. Most of us buy our bay laurels as plants.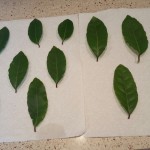 Fresh leaves are too bitter to be used in cooking. They should be dried first. Drying bay laurel leaves is easy. You can use leaves from your spring pruning or just pick leaves off of your tree. You can begin harvesting leaves from your tree after it reaches a height of 2 feet. Try to use the largest leaves. They have more flavor because they contain more of the essential oil (eucolyptol) used to flavor your soups, stews and sauces. Lay the leaves on a paper towel in a cool, dark spot for about a week. Then store them in an airtight glass jar. They can be stored for up to a year. Freshly dried bay leaves have a superior flavor to the dried leaves you buy at the store.
Bay laurel is useful for more than cooking. It is also ornamental and can be used in wreaths and garlands. It pays to have at least one bay laurel tree on hand.