Basil comes in seemingly endless varieties. Because I have very little space to garden in at home, I can only grow a few basils. To get the most out of my plants, my basil does double duty as both a culinary herb and an ornamental plant. Here are my three choices for my own garden: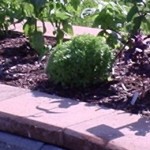 Spicy Globe Basil gets its name because it grows in the shape of a globe. It's a small basil, only growing to a height of 6" – 10". I grow it in a contrasting square pot. It also makes a great border for your garden. Its tiny leaves have a spicier flavor than the classic basils. The small leafed basils save you time in the kitchen. Because their leaves are so tiny, they can be added directly to whatever you are cooking with no need to take time to chop them up as you do with normal size basil leaves.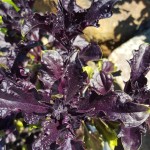 Purple Ruffles Basil is a workhorse in my garden. Its dark purple leaves provide color and contrast with my flowers and the ruffled edges add texture to my garden. It's a medium sized basil growing to 15 inches. It has a slightly anise flavor similar to Thai basil but without the spiciness. Purple ruffles can be used in salads to add color and flavor, as well as in herbal vinegars which will turn dark red as they absorb the color and flavor of the leaves.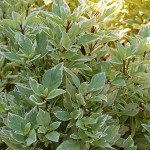 Pesto Perpetuo Basil is hands down my favorite basil. It's a Genovese type basil with the great Genovese flavor but it is more cold hardy. It also doesn't flower so you don't have to deadhead it all summer. Pesto perpetual is a columnar basil. Rather than the usual bushy plant, it grows in a neat, tall column reaching a height of 48 inches. Its variegated leaves provide color and contrast in my flower garden. This is a basil that has everything!