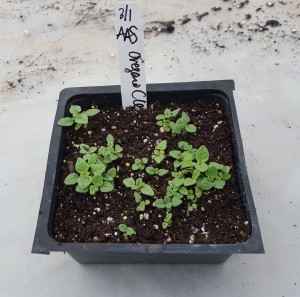 This year Rutgers Gardens, a display garden for AAS, is growing another 2015 winner: Cleopatra Oregano. Last year we grew the Dolce Fresca basil, also a 2015 winner.
Cleopatra oregano is different from the usual oreganos. It's an Origanum syriaca with a spicier flavor that has a hint of mint in it. They are also known as Lebanese oregano or Syrian oregano and used in za'atar mixes. They normally grow about 3 feet tall but Cleopatra is tiny, only 10 inches tall, perfect for a container.
Today I transplanted it out of its seeding square into a flat of individual containers. There is enough that I will be able to plant a few in the herb garden also. Be sure to look for it when you visit!